Belarus central state budget to invest Br257bn in nuclear station in 2012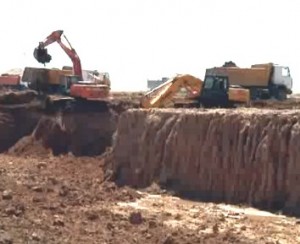 MINSK, 29 August (BelTA) – As much as Br257 billion from the central state budget will be invested in the construction of the Belarusian nuclear power plant in 2012, Deputy Energy Minister of Belarus Mikhail Mikhadyuk said at the online conference hosted by the BelTA website on 29 August.
There are plans to channel Br257 billion out of the central state budget in 2012 into the infrastructure required to build the nuclear power plant, said the official.
After the decision to build the nuclear power plant in Belarus was made, preparations began, including the construction of the infrastructure for the nuclear power plant. The infrastructure included a united pioneering manufacturing base, the manufacturing base required to build the power plant, housing premises, motorways and railways, power lines to feed electricity from and to the power plant. Project documents were made. The work was financed by the central state budget and relevant loans.
Mikhail Mikhadyuk reminded that an intergovernmental agreement was signed on 25 November 2011 to grant a state export loan to the Belarusian government for the sake of building the nuclear power plant. The agreement provides for allocating up to $10 billion to finance 90% of the contract to build the nuclear station.
Asked whether Belarus may run into problems regarding the financing of the nuclear power plant construction because foreign debt repayment will peak in 2013-2014, the Deputy Energy Minister said that the terms of the loan and the deadline to return the loan take into account foreign debt repayment.
The official said that in 2012 as much as $148.5 million out of the Russian state loan will be spent on building the nuclear power plant.
Now the Belarusian Finance Ministry in association with the state corporation Vnesheconombank and OAO Belvnesheconombank are about to complete the approval of the draft credit agreement on taking out a commercial loan to make the advance payments that the general contract to build the nuclear power plant requires. As much as $20.7 million will be required in 2012, said the official.