Belarus NPP construction in progress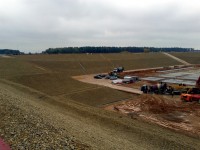 MINSK, 4 October (BelTA) – A session of the seventh operations center to build the Belarusian nuclear power plant has been held, BelTA learned from the Public Relations and Information Policy Office of the Russian company OAO Nizhny Novgorod Engineering Company Atomenergoproject.
Representatives of the Belarusian government took part in the meeting as well as representatives of the Nuclear Power Plant Construction Directorate (the buyer of the facility), the united company OAO NIAEP – ZAO Atomstroyexport (the general designer of the power plant and the general contractor), Belarusian subcontractors, and the Grodno Oblast administration.
Participants of the session examined the construction site where they discussed the progress in building the manufacturing base and the power plant itself. The excavation of the foundation pit for energy unit No. 1 is in full swing. By the end of November 2012 the builders will have to complete bed drainage, which will simultaneously protect the bottom part of the excavation pit from frost penetration.
Yuri Pustovoi, Deputy Director of the company OAO NIAEP, Director of the representative office in Belarus, said that at present work is in progress at 62 facilities. There are plans to commission 14 ones in 2012. About 200 construction vehicles are used on site as well as over 900 workers.
The session set the tasks to be accomplished within the next three months. By the end of 2012 it is necessary to enable heating in the buildings that have to be commissioned this year (heating will be available in early November). It is also necessary to finish building the water intake facility, the water treatment facility, and use bed drainage to cover the foundation of the buildings in the nuclear and turbine islands.
Yuri Pustovoi drew attention to the need to optimize the schedule for releasing design documentation and to matters concerning the licensing of activities involved in building the nuclear power plant in line with Belarusian legislation.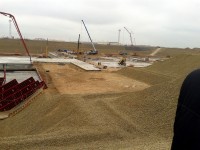 Director of the united company OAO NIAEP – ZAO Atomstroyexport Valery Limarenko underlined: "In order to build the energy installation, which is crucial for Belarus, on time, it is necessary to get design documents released in a timely manner, it is necessary to buy and ship the equipment while subcontractors have to commission their facilities strictly on schedule".
The Belarusian nuclear power plant will have two power-generating units with the total capacity of up to 2,400MW (1,200MW each). It will be built at the Ostrovets site in Grodno Oblast. The design AES-2006 that fully meets international norms and IAEA recommendations has been chosen to build Belarus' first nuclear power plant.
The united company OAO NIAEP – ZAO Atomstroyexport (ZAO ASE) was founded in March 2012 by the relevant resolution of the state corporation for nuclear energy Rosatom. Thus, OAO NIAEP became the managing company of ZAO Atomstroyexport. The package of the projects the united company is implementing includes 20 energy units, which are being built or designed in Russia and abroad at the same time.